Use as a Chair / Lounger
You can use your Hennessy Hammock as camp furniture, as well as a shelter. In the early years, when people called us and asked "is it possible to be outside the hammock without having the net over you all the time", we said "we don't know". Until, one day, our users showed us how!
John Nigeboer of "Seals Action Gear" in Calgary, Alberta discovered a way of using the Hennessy Hammock as an open camp chair. Way to go, John!
It kind of just happened. While he was looking for a place to sit down, he came up with this idea. Just follow these steps:
1. Release one of the side elastics of the Hennessy Hammock.
2. Reach under the hammock and hold onto the reinforcing patch at the bottom center of the entrance with your right hand.
3. Fold the hammock in half by holding the released "O" ring in your left hand and push it straight through to the other side.
4. Before you sit down, make sure that the folded fabric has not shifted out of position.
---
This video shows the self closing entrance, and the hammock used as a chair and as a lounger. This is great news for all those Hennessy Hammock owners who have been wishing that they could use their hammock as an open seat or lounger during the day.
Letters
Customer for life
Hey guys,
Just wanted to say this is the best sleep system out there! I took one with me on a 50 mile hike down the AT last year and watched as the rest of my friends with tents struggled to find flat ground and slept with roots in their back. I could set up and pack up very quickly leaving more time to rest AND hike. I LOVE THIS HAMMOCK.
As if that wasn't proof enough, I'm writing is to tell you how this awesome invention saved my weekend, and maybe a trip to frostbite-land. Recently I was on a hike in the savage mountains in western MD. I brought a lady friend so I picked up a cheap tent before we left. MISTAKE. After the first night, the frost set in and we nearly froze to death. Dew was literally raining INSIDE the tent! Desperate measures were taken and voiding warranties was not on my mind, I set up my Hennessey and we crawled inside with my dog! (A yorkie) All together we weigh about 280. Snuggled and cocooned we were soon toasty and safe. No dew, no frost. We enjoyed a great weekend after that! Thanks for a wonderful product.
Customer for life.
John McDaniel
---
Jon Friedrichs demonstrating the Hennessy Hammock used as a chair -great around camp or anywhere you want to stop during the day for a wonderful rest along the trail. No more crouching on the damp, hard ground while cooking or relaxing!!
Because it goes up or comes down in minutes, you can stop anytime you feel tired or just want to enjoy "hanging out" and enjoying the beauty of the forest..
Even more comfortable is Jon's lovely wife, who has definitely caught on to using her Hennessy as a camp lounger. This works just as well on the porch or in the back yard.
For more comments on camping comfort, see Jon's letter on our Injury/Arthritis page!
Photos by Jon Friedrichs.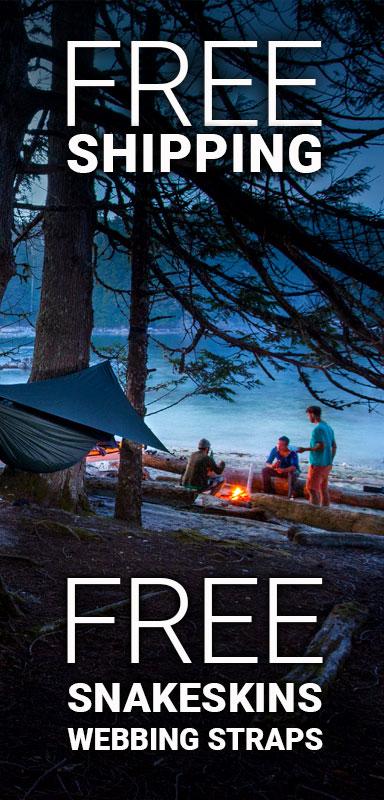 Shop for Gear