Current Offers and Specials
Classic Clearance Sale
40% off Select Models while Quantities Last - Last Chance before they Disappear Forever.
The original bottom entry hammock.
Back in 1999, all Hennessy Hammocks had an entrance through the bottom which snapped closed automatically under the weight of the occupant. This entrance through the bottom was revolutionary because it was so easy to get in and out, and it was different from anything anybody had ever seen. 
The mosquitoes could not figure out how people disappeared so quickly. 
Over the years, the Hennessy Hammock inventory has increased to 24 models and we recognize that it's time to simplify and focus our lineup.
We're offering three of our Classic (bottom entry) models at a 40% discount price: the Backpacker Classic, the Explorer Ultralite Classic, and the Safari Classic, while quantities last. After the sale, these models will be available in the Zip entry style only.
There's something in the sale for everybody: kids, lightweight hikers and big and tall people all can find something in this sale. The bottom entry hammocks have the advantage of being very easy to enter and exit so they are great for people who are into stealth camping (faster entry and exit) and also people with mobility issues. It's time to check your gift list – and get yours too, before they disappear forever!
---
FREE Shipping on Orders Over €125
*Offer valid only on orders placed at eu.hennessyhammock.com or at 1 250 539 2930, Monday - Friday, 9am - 4pm Pacific Standard Time.
Offer valid on all orders with a subtotal of €125 or more. Standard shipping rates apply for orders under €125 EU.
All prices on this website are in Euros.
---
FREE Longer Webbing Straps When you "Build Your Own"
To be certain that Hennessy Hammocks can never damage the tender bark of trees, our hammocks always include complimentary webbing straps.
NEW! Now you can also get a free upgrade to longer webbing straps when customizing any hammock from our website. You may want longer straps if you camp where there are really big trees and don't mind carrying the extra weight. Our stock 42" long webbing straps are long enough to go around a 14" diameter tree. The 72" webbing straps will go around a 24" tree and the 96" straps will go around a 32" tree. Click on the "Build Your Own" button on the hammock product page to upgrade to free 72" or 96" Webbing Straps. WEBBING STRAP SPECIFICATIONS
---
FREE SnakeSkins: The Instant Stuff Sack
With the purchase of most hammocks a free set of Snakeskins will automatically be added to your cart.  "SnakeSkins" are a patented instant stuff sack system that collapses your Hennessy Hammock in about 30 seconds. Your shelter never touches the ground, never gets dirty or muddy. It just disappears into two tapering tubes of silnylon which sit gathered on the ropes at each end of the hammock for amazingly quick set up and take down. For use with all Hennessy Hammock models. The 70 D poly hex fly requires an additional pair of snakeskins because the hex fly is bulkier than the standard rainflies.
---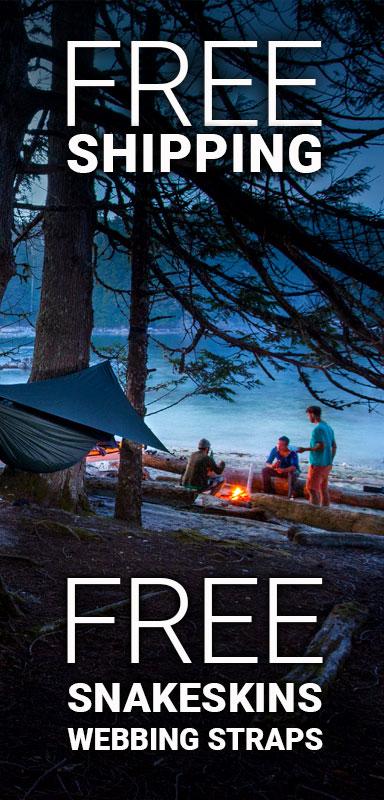 Shop for Gear